Classroom blogging is one of the newest uses of technology to encourage reading and writing. While some may believe that blogging is only for older, more tech-savvy students, at our school, Kings Park Elementary in Springfield, Virginia, we use classroom blogs to teach primary students how to communicate. Additionally, blogging expands the home-school connection by developing dialogue about classroom activities among students, teachers, and parents.
---
SETTING UP AND MANAGING A BLOG
Fairfax County, Virginia, Public Schools requires each classroom teacher to create and maintain a site through a password-protected, online system called Blackboard. Teachers post announcements, contact information, and homework assignments. We include classroom blogs, a type of online journal, as an additional feature on our sites.
When setting the blog features in Blackboard, the teacher can choose from a couple of options for students: students can be given the right to add blog entries or to make comments on entries posted by the teacher. Our teachers use both options.
Students' identification numbers are their log-ins. Teachers select class passwords and create log-in cards for students to use until they memorize their username and password. This allows teachers to easily maintain the class site.
---
ESTABLISHING THE HOME-SCHOOL CONNECTION
Our classroom blogs are shared with parents on back-to-school night and at parent conferences. Teachers and families work together to determine computer access at home and to share information about free public access for students and families to use. Opportunities for students to access the site and blog are built into the school day through centers and focus lessons. Once parents are informed, the blog is introduced to the students.
To begin the process of using a blog with students, teachers model the procedures by posting a message to parents. This introduces the idea that a blog is a way to communicate with others. Writing simple messages with whole group participation integrates and models reading and writing skills.
---
DEVELOPMENTALLY APPROPRIATE CONSIDERATIONS
When students begin posting responses to questions, kindergarteners and first graders are encouraged to write without worrying about spelling and grammar. Students use inventive spelling, which is age appropriate and developmentally sound. Teachers support student blogging by creating word banks on topics being studied. This alleviates the stress of spelling content words correctly.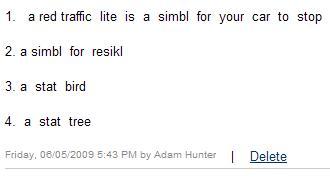 Additionally, young students are not expected to use any one keyboarding technique. As handheld devices change, keyboarding skills and techniques are evolving. Students develop their own techniques for keyboarding that are effective and age-appropriate as the year progresses.
---
USING BLOGS AS AN INSTRUCTIONAL TOOL
Teachers use the blog to reinforce content and concepts, publish writing, and gather formative assessment data. Rubrics were created to focus students on specific writing expectations.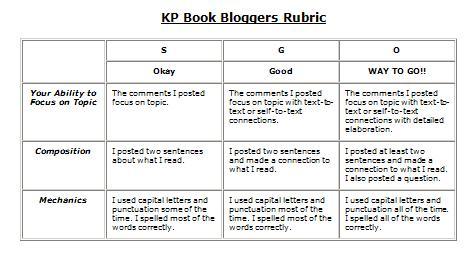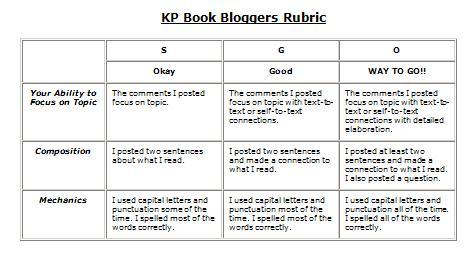 Students' entries provide a snapshot of their understanding and thinking related to the concepts taught, and assist teachers in developing instruction. There are a variety of ways to implement the blog instructionally.
Here are some ideas you can use to enhance teaching and learning experiences using a blog.
Daily Postings
Students ask questions or make statements about things they learned during the day or week. Teachers and other students can reply to these comments.
Using Pictures to Engage Students
Teachers can add pictures to support concepts in all content areas. Students may choose answers to match pictures when given an assessment on the blog.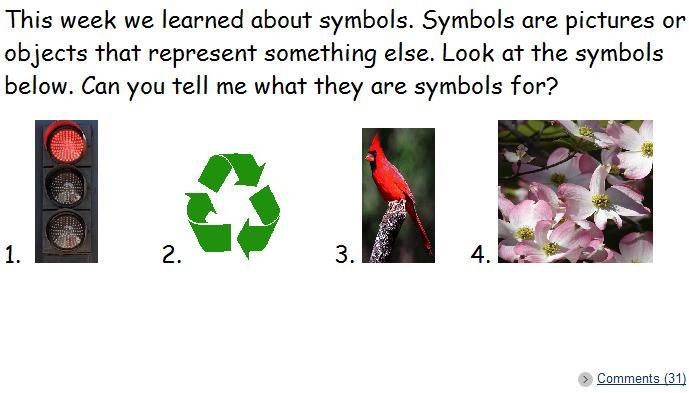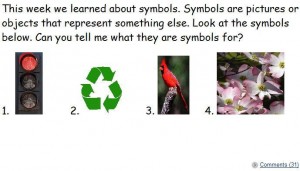 Classroom Videos/Pictures
Movies can be created from still photos using Photo Story or Windows Movie Maker. Students voices can be recorded into the movie. Parents and students can watch the movies at home from the blog. Students and parents can post comments about the videos and reflect on classroom activities.
Link to Educational Web sites
Students can access educational web sites to review content from class, then follow up by reflecting on what they learned by posting a blog comment. For example, students can observe live web cams of animals and then tell about the animals in a blog entry.
Book Reviews
Students may give book reviews. Online book sites can be listed for students to hear or read the book.
Mystery Blog: Who or What Is This?
Teachers can post pictures, portions of a picture, or clues about a particular topic. Students can make guesses and ask questions by posting comments to the blog.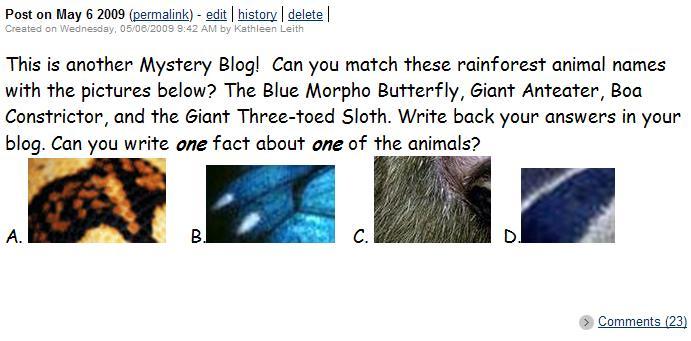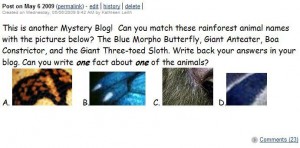 Literacy Station
Reinforce spelling words by having students type sentences using their spelling or word-study words for the week. Students can respond to weekly postings by the teacher about topics they are currently studying. Students can also participate in current events discussions on topics such as the environment or politics.
Editing on the Blog
As writing skills develop, students will practice proper mechanics and grammar by editing sentences. Start out by posting a sentence with upper- and lower-case errors. Students may highlight the sentence and copy it in their comment box to do the editing. This posting can be used as formative assessment to drive future writing lessons.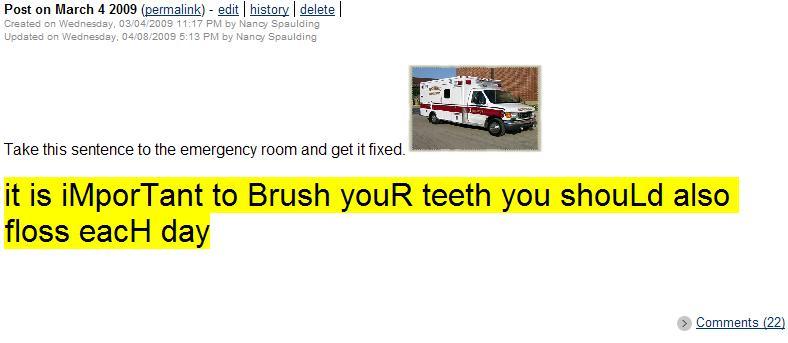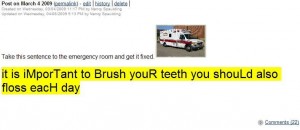 ---
SUMMING UP
Classroom blogging is an effective way to encourage reading and writing. It assists in developing confident students who are enthusiastic about learning. Teachers can integrate the use of a blog throughout the curriculum to enrich their teaching practices. Blogging allows parents, teachers, and students to connect in a positive and exciting way. We are preparing our students to be active participants in a technologically driven world.
---
This article was written by Nancy Spaulding, Kathleen Leith, and Michelle Crabill. For more information, see the Contributors page. Email Kimberly Lightle, Principal Investigator, with any questions about the content of this site.
Copyright December 2009 – The Ohio State University. This material is based upon work supported by the National Science Foundation under Grant No. 0733024. Any opinions, findings, and conclusions or recommendations expressed in this material are those of the author(s) and do not necessarily reflect the views of the National Science Foundation. This work is licensed under an Attribution-ShareAlike 3.0 Unported Creative Commons license.