Icebergs, like penguins and polar bears, are an iconic symbol of the polar regions. You may have seen spectacular images of towering, sculpted white ice or even pictures of blue or striped icebergs. How are they formed? What causes differences in color? How do these massive chunks of ice float? Read on to learn about all things iceberg!
---
ICEBERGS 101
Icebergs are found in the Arctic, North Atlantic, and Southern Oceans. Icebergs float in salt water because they are formed by calving, or splitting, glaciers and are thus made of fresh water. The size of icebergs varies widely. Small bergs (a little smaller than a car) are known as "growlers," while slightly larger bergs (about the size of a house) are called"bergy bits." Larger bergs are classified as small, medium, large, and very large. And very large they can be. The tallest known iceberg in the North Atlantic was 550 feet (168 m) above sea level. Since the bulk of an iceberg is below the water, the entire berg was estimated to be as tall as a 55-story building!
Iceberg B-15, which calved from the Ross Ice Shelf of Antarctica in 2000, was half a mile thick and covered an area of about 4,500 square miles (about the size of Connecticut). B-15 subsequently broke into smaller pieces, named B-15A, B-15B, and so on. Why did this massive berg break apart? Seismic recordings showed that an Arctic storm six days prior to the event was to blame. The storm created ocean swells that traveled over 8,000 miles and caused B-15 to crash repeatedly against the coast.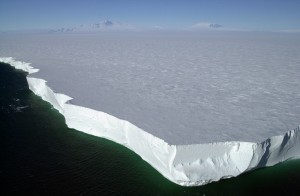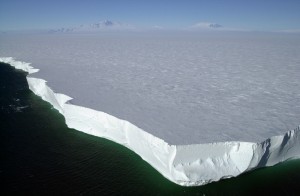 The northern edge of the giant iceberg B-15A, located close to Ross Island, Antarctica. Photo courtesy of Josh Landis, National Science Foundation.
Icebergs are also classified by their shape. Tabular icebergs have steep sides and a flat top like a plateau, while non-tabular icebergs include irregular shapes such as rounded tops, spires, sloping sides, and blocks. Wind and water erode icebergs into amazing sculptural shapes.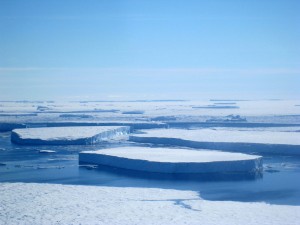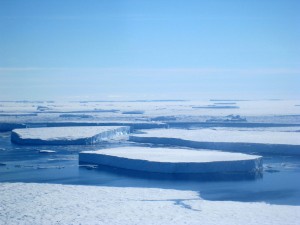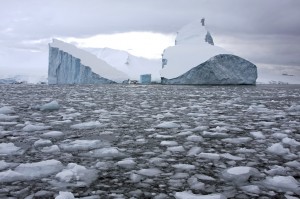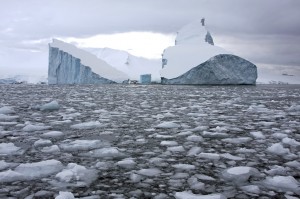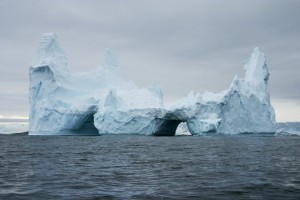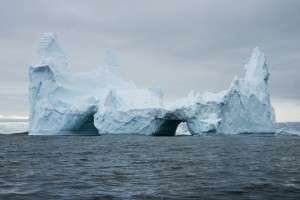 Icebergs come in a variety of shapes. From top to bottom, photos courtesy of Galen Dossin, Zee Evans, and Jon Brack, National Science Foundation.
Most icebergs are white in color, but some may appear blue or even green. Ice is full of tiny air bubbles that scatter all color wavelengths the same amount, giving the ice a white appearance. If the ice is compressed, the bubbles are squeezed out and the blue light is scattered much more than other colors – making the ice appear blue. Algae often grow on the underside of sea ice and icebergs, producing green stripes that are only revealed when the ice rolls over and exposes the previously underwater sections.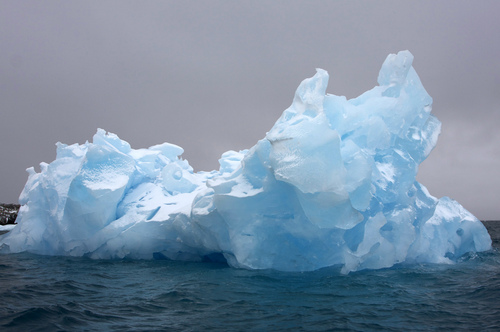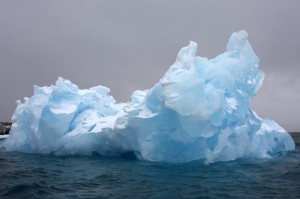 ---
---
---
---
---
---
This article was written by Jessica Fries-Gaither and Alison Schirmer Lockman. For more information, see the Contributors page. Email Kimberly Lightle, Principal Investigator, with any questions about the content of this site.
Copyright August 2009 – The Ohio State University. This material is based upon work supported by the National Science Foundation under Grant No. 0733024. Any opinions, findings, and conclusions or recommendations expressed in this material are those of the author(s) and do not necessarily reflect the views of the National Science Foundation. This work is licensed under an Attribution-ShareAlike 3.0 Unported Creative Commons license.